About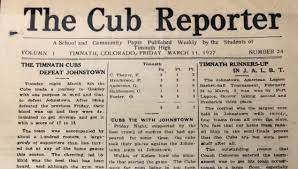 Cub Reporter was the name of the newspaper for the original Timnath High School. Back then, stories were shared in black and white ink, printed and distributed around the school, until the student publication captured the final graduating class of 1960.
Today, a new generation of journalists are dusting off the name and taking up the mantle of sharing important information about our community with our community – a modern Cub Reporter to meet the needs of our current student population.
We are honored to share stories with feeling and heart as we all settle into, define, and build a new community, and we hope you'll lend us your voice. Our publication is for you, after all, and we're glad you're here!
Sincerely,
The 2022-2023 Inaugural Cub Reporter Staff